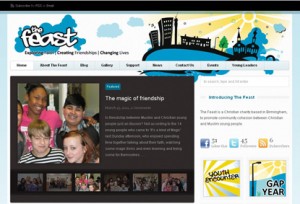 We've been working recently with Tim Fawssett, Project Manager from The Feast and we're happy to announce their brand new fully customised WordPress site.
The Feast is a Christian charity based in Birmingham in the UK, working to promote Community Cohesion between Christian and Muslim young people.We've worked with The Feast on a few projects to date, and it's been a good collaborative and creative process establishing a new, strong, brand for them. We have worked closely with Tim to completely re-brand and re-structure their site andTim has thrown himself into fully using and understanding the WordPress technology. It's been a pleasure to work with The Feast and we are happy that they are getting great feedback on their new site.
Please take a look, sign up to their newsletter or consider doing some volunteering!