The Catholic Schools Pupil Profile greatly supports children's spiritual, moral, vocational, social, and cultural development.
Did you know we have created a collection of child friendly displays focusing on the Values and Virtues?
These Virtue pairing plaques have been designed and developed under the guidance of the 11 UK Jesuit Schools and Fr Adrian Porter SJ, from the Jesuit Institute. A special thanks goes to Michael Burrowes at Cardinal Griffin Catholic College for facilitating this process.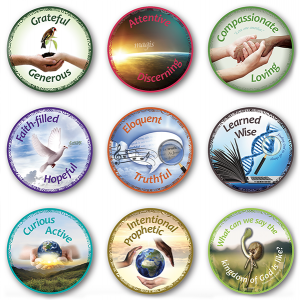 They are particularly aimed at 4 – 11-year-old pupils using bright engaging colours linked to the pairings, photography and illustration, as well as selecting a simple, clear typeface with the preferred letter 'a' to aid early readers.
For more information see:
https://www.twothirdsdesign.co.uk/products/catholic-displays-values-virtues-plaques-and-tree/
If you are interested in the displays above and would like an accurate costing, it would help if you could provide the following:
Dimensions of the space so we can advise on the size.
A description of the area (e.g. high footfall, near a heat source – radiator or direct sunlight) so we can advise on the right material.
Photographs of the area (e.g. Reception, Hall, Corridor) so we can assess the right fixtures.
We will get back to you ASAP or alternatively contact us on 0121 233 2057 to discuss the possibilities.
Bespoke enquires welcome!